Nikolaos Grammenos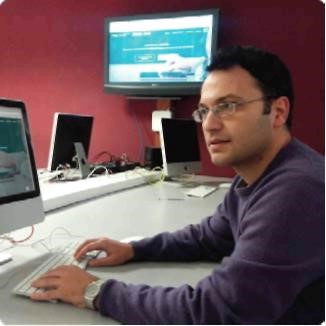 Nikolaos Grammenos holds a
B.Sc. degree in Informatics and Telecommunications (National and Kapodistrian University of Athens),
M.Sc. degree in Telecommunications and Network Systems (National and Kapodistrian University of Athens) and
M.B.A. degree in Technological Systems Management (National Technical University of Athens). He is currently a Ph.D. candidate in New Educational Technologies (National Technical University of Athens).
Professional Profile
He is a Counselor B' in the field of "Computer Science and Informatics" and Coordinator of the "Information and Communications Technology – I.C.T." sub-unit which belongs to the scientific unit "Science, Technology and Mathematics" of the Institute of Educational Policy.
He has worked as a Computer Programmer and System Analyst for six years (Intracom Company) and as an Educational Director for the design and implementation of Advanced I.T. skills in Greece (Centre of lifelong distant learning – Ministry of Education, Research and Religious Affairs) for about three years. He is currently an I.T. Teacher in the public secondary education.
Publications & Projects
He has been honored with the prize "Award of Excellence in Telecommunications" given by the Ericsson Company as a representative of the National and Kapodistrian University of Athens.
He is the author of: (a) many national and international scientific papers about "Computer Science" and "Educational Methodologies", (b) the best-seller -in Greece and Cyprus- book "Computer Networks Technician", (c) part of a book concerning STEM and Educational Robotics.
He has participated in several European and National projects as a project manager, as a work packages manager and as a member of working groups, and in many educational commissions of the Ministry of Education, Research and Religious Affairs. He is also an evaluator of investment plans in Informatics and Telecommunications at a national level (Information Society SA).
He is responsible for designing and developing the National Platform of Digital Educational Scenarios (A.E.S.O.P. – Advanced Electronic Scenarios Operating Platform) for the primary and secondary education in Greece.
He is currently the project manager of the co-financed project: "Training interventions to strengthen school structures of the educational system" which includes the training of teachers and educational executives a) for the introduction of descriptive assessment in compulsory education b) on the new Curricula for Foreign Language teaching c) on the new Curricula for Religious Education and d) to support the education of refugees' children.
He has designed and developed educational software (psychometric tool) for career guidance in secondary education which is currently the basic tool used by all the Centers of Guidance in Greece.
He has wide teaching experience in adult education (with certified educational adequacy from the National Organization for the Certification of Qualifications and Vocational Guidance - EOPPEP-) with over 1.500 hours in general population and over 2.500 hours in adults with disabilities (mainly visually impaired adults).
Finally, he taught at the School of Pedagogical and Technological Education (ASPETE) and at the Military School of Hellenic Air Force.