Eleftherios Vekris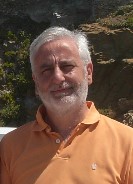 Eleftherios Vekris holds
a degree in Medieval and Modern Greek Studies (1987) from the National and Kapodistrian University of Athens (Faculty of Philology).
He completed his PHD thesis entitled "Aiming at Critical Literacy: Reading Practices in the Modern Greek Language subject in Greek High schools " at the University of Crete, Department of Philosophical and Social Studies.
Professional Profile
He has extensive teaching experience in secondary education.
From 1989 onwards he has been working in Secondary Education.
In 1989 he was appointed teacher and has been teaching in Secondary Education ever since.
More specifically, from 1989 to 2000 he taught at Costeas-Geitonas private school, and from 2000 until today at public schools.
He has also held posts of responsibilities:
From 1994 until 1999, he was Head of the Open Creative School at Costeas-Geitonas School.
From 1997 until 2000 he was Deputy Head of Costeas-Geitonas High School.
From 2001 to 2004 he was on secondment to the General Secretariat for Lifelong Learning and subsequently Head, as well as member, of the work group for the organization and operation of Second Chance Schools.
From 2010 to 2015 he was a member of the Scientific Supervisory Board of the Anavryta Gymnasium.
He has also worked as a teachers' trainer in many vocational development programmes.
From 2015 he is on secondment to the Institute of Educational Policy as Counselor (A') and Coordinator of the "Humanities and Literature" Unit.
Publications & Projects
His scientific interests focus on-linguistic training and innovative approaches to language teaching-the formulation of policies on language education and teacher training, and-the use of ethnographic methods in education
He has participated as a speaker in many conferences and scientific meetings, and has published papers in scientific journals, conference proceedings and collective volumes on subjects related to his interests.
He is a member of the editorial team of the e-magazine «Έρευνα – Δράση» ("Research - Action") and a member of the Scientific Committee of the Southeastern Attica Studies Society.