Kostas Karnavas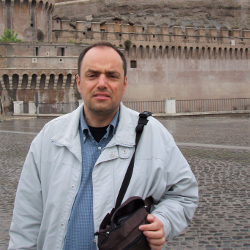 Kostas Karnavas holds a
B.Sc. in History from History Department of Ionian University (Corfu)
Ed. in educational studies from Hellenic Open University, and
is Ph.D. candidate in Department of Archives, Library and Museology of Ionian University (Corfu), with dissertation title: "The administrative and legal integration in the Greek state of northern and eastern Aegean islands that liberated during the Balkan Wars (1912-1913)"
Professional Profile
He is a teacher, working at Greek public secondary schools since 2007.
He is currently attached to the Institute of Educational Policy in the Humanities and Literature Unit, as well as in the School Administration, Rights and Gender Equality Unit.
Publications & Projects
He has published/conducted research on the following fields:
History
Military analysis
International relations
His research interests focus on
Greek literature
History
Modern Greek language
Philosophy
He has participated in the following projects/programmes:
Study Visits (as project manager: 2009-2011, State Scholarships Foundation/IKY)
Comenius IST (as project manager: 2011-2013, State Scholarships Foundation/IKY)
He has participated in:
Study Visits program annual meeting (Cedefop, Thessaloniki, 2010)
Comenius program conference (European Commission, Brussels, 2012)
He has implemented/organized the following Study Visits meetings/conferences:
Supporting disadvantaged groups in primary and secondary education, Corfu, 23-27/01/2012.
Reforming the Greek educational system, Athens, 5-9/12/2011.
Innovative approaches to reinforcing respect for the environment, Corinth, 26-30/09/2011
Integration of migrants through civil society and State mechanisms, Athens, 9-13/05/2011.
Creative learning pathways in formal and non-formal education, Patras, 4-8/04/2011.
An overview of lifelong learning, Corfu, 17-20/01/2011.
Creating a "sustainable" school, Athens, 22-26/11/2010.
Environmental education in primary and secondary schools, Larissa, 26-30/04/2010.
Use of laboratories for teaching sciences and gaining vocational competences, Athens, 15-18/03/2010
Strategies of education for sustainable development in Greece, Athens, 8-11/02/2010
Legislation and institutions for pupils with special needs in Greece, Athens, 23-27/11/2009
Foreign language teaching and learning in primary, secondary and higher education, Corfu, 19-22/10/2009
He has implemented many educational school programs and is assessor of Erasmus+ program.