Evmorfia - Dimitra Faradou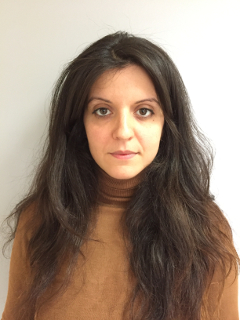 Evmorfia - Dimitra Faradou holds
a B.Sc. in Civil Engineering from the Department of Civil Engineering Educators of the School of Pedagogical & Technological Education (ASPETE) of Athens.
an M.Sc. in Information and Communication Technology in Education from the National and Kapodistrian University of Athens.
Additionally, she completed postgraduate studies in "Counselling and Guidance" (Dept. of Education, ASPETE). Since 2017 she's being studying in the Fine Arts department of the School of Fine Arts in Athens.
She has attended long training and distance learning (e-learning) programs and she holds a certification in designing Programs for Civil Engineers.
Professional Profile
She is a teacher, working at Greek public secondary/technical -vocational schools since 2005.
She has worked on Tertiary Education, as a laboratory assistant at the Department of Civil Engineering Educators (ASPETE) and on Post Secondary Education (IEK).
She is currently attached to the Institute of Educational Policy in the Scientific Department as a Consultant in the field of Structural Projects, Structured Environment and Architectural Planning. She has issued opinions on subjects related to the approval of the implementation of programs and educational material, the development of Curricula as well as teaching instructions.
Publications & Projects
She has published/conducted research on the following fields:
Computer Based Concept Mapping in the teaching of subjects of the Structural Sector.
Educational material and Trainer's Guide of the Apprenticeship Curriculum (as a co-author).
Assessment Report for the implementation of the Post-Hellenic Year of Apprenticeship (participation as a member in the research team of the Institute of Educational Policy (IEP)).
Her research interests focus on
Development of educational material
Curriculum Structure and Design
She has participated in the following programs and committees:
As a member of the Subcommittee of Vocational and Technical Education in the framework of the National and Social Dialogue on Education.
As a coordinator of the Committee for the Improvement of Curricula.
As a member of the team which designed the questionnaire for teachers of apprenticeship class.
As a member of the Project Working Group entitled "Training of apprentices / trainers" and so on).